Making Relationships Work For You
COMBINATION SET (also available individually):
"The Dance of the Selves in Relationship" & "Meeting Your Selves"
with Drs. Hal and Sidra Stone
— mp3 Audio Talk
"Hal and Sidra are doing unique, exciting, and pioneering work in the area of relationship. They have helped me tremendously in my own personal life and have given me new inspiration in my work."
- Shakti Gawain, author of Creative Visualization
Relationships are a major challenge! Whether single or married, you are involved with others all the time. Do you want to learn more about your relationships? Do you want to enjoy them more and have more of a sense of humor about them? Dr. Hal and Sidra Stone's revolutionary "no fault" approach makes each of your relationships an exciting and positive experience. You will see how to use it as a teacher, a healer of past pain, and a guide to future fulfillment.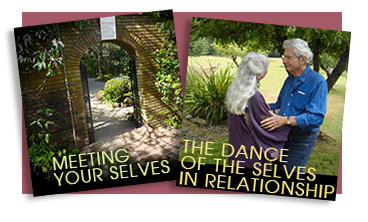 In these two 60 minute talks, "Meeting Your Selves" and "The Dance of the Selves in Relationship", Drs. Hal and Sidra Stone introduce you to the amazing family of selves that lives within you. In the first talk you will see how these selves developed in you and how they affect your life. In the second, you will see the impact they have on your relationships. After all, relationships are not just between two people, but between your own "inner family" of selves and someone else's. That's why they can get so complicated!
These talks are informal and personal. The Stones are clinical psychologists, but they are also a practical couple – relaxed, funny and easy to understand. They approach life, the psyche, and relationships in a no-fault, non-judgmental fashion that will leave you feeling good about yourself!